Overhauls and Draughtproofing
Do your casements or sliding sash windows let in draughts and rattle? As experienced property maintenance specialists for South Devon, we often see this. By skilfully draught-proofing sash windows and other window types, it's easy to cure.
A CONVENIENT ONE-STOP SERVICE
We handle all aspects of timber window restoration in Devon. It's one part of our convenient one-stop property maintenance service and we have a hard-earned reputation to protect. We got it by taking the worry out of window renovation and upgrades such as window draught-proofing and double glazing for people like you. As perfectionists, our work is meticulous, fully guaranteed and, where required, 
FENSA-certified
. We think you'll like our prices, tidiness and honesty too.
That's only part of our story. To fully understand why people entrust us with renovating and draught-proofing windows, call for a no-obligation chat, free quotation and referrals to delighted customers.
Call 07595 387211 or contact us today
MORE ON DRAUGHT-PROOFING WINDOWS
As experienced window repairers, renovators and makers, we regularly draught-proof windows for private and commercial properties. This can be stand-alone or part of larger works on timber windows in Exeter, Newton Abbot, Dartmouth and elsewhere in South Devon.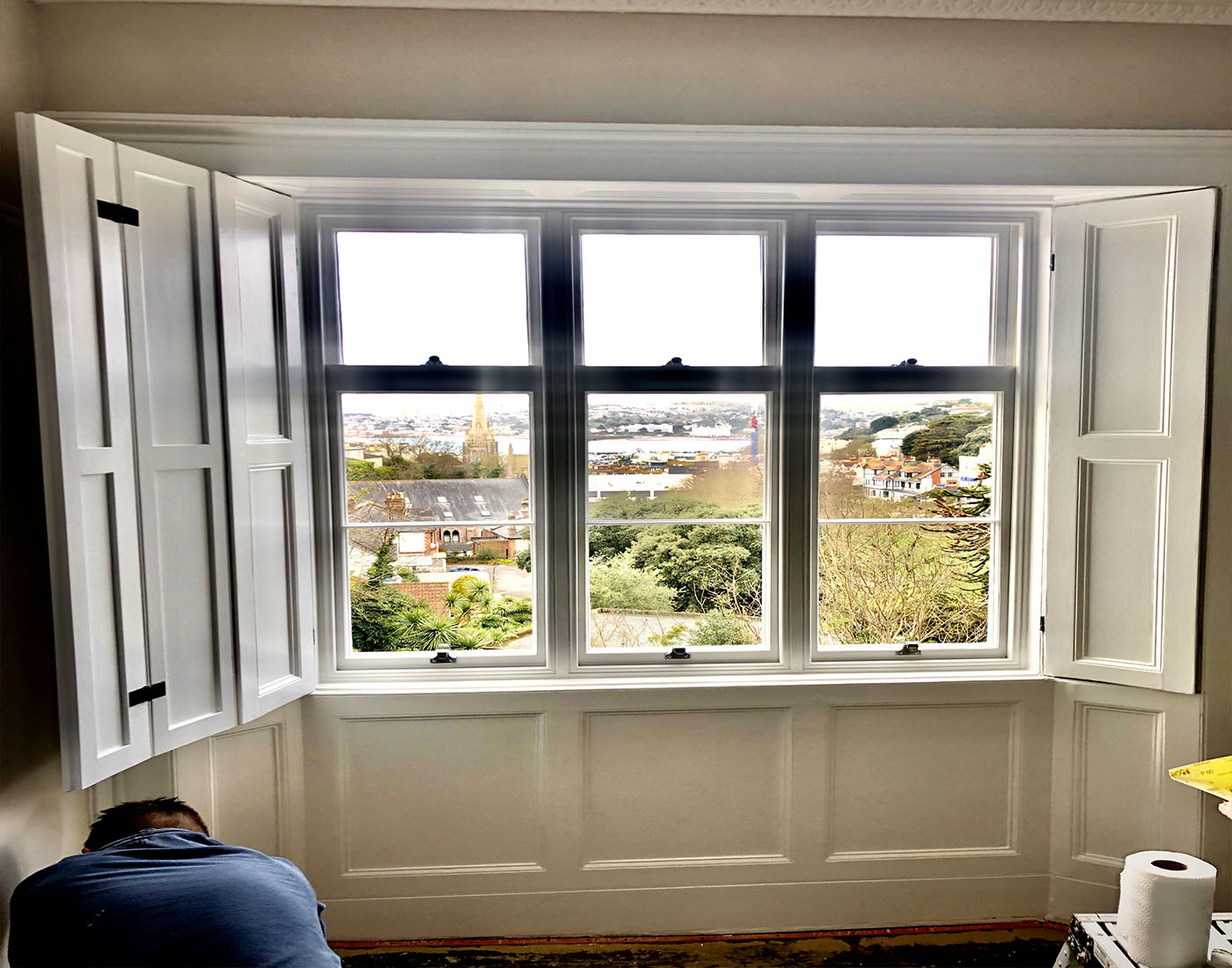 SASH WINDOW DRAUGHT PROOFING
With so many vertical sliding sashes in local Georgian and Victorian properties, don't be surprised that we're regularly draught-proofing sash windows – or as North Americans might say, 'draft proofing sash windows'. Depending on your needs, there are various ways of doing this and it doesn't necessarily involve replacement timber windows and new glazing.
NEW DRAUGHT-PROOFING BRUSHES
Older sash windows are notoriously draughty and are often painted shut. Sealing windows like this might make them airtight and draught free, but it also makes them impossible to open. In this case, we can free-up the sashes and fit draught-proofing brushes. This stops draughts while keeping the 3 mm gap between the sashes that are vital for smooth movement. Of course, if sashes haven't been painted shut it's even simpler to uninstall them and fit brushes – draught-proofing windows doesn't get much easier.
RENOVATION AND REFURBISHMENT
Many customers go a step further and ask us to include energy-saving draught-proofing in their sash window renovation and refurbishment. This typically includes items such as these:
New sash cords
Replacement staff and passing beads
Restored sash horns
Upgraded hardware
Retrofit draught proofing
Naturally, we also renovate other types of timber window and manufacture all kinds of replacement windows.
THE ULTIMATE CURE FOR DRAUGHTY WINDOWS
As bespoke window suppliers and fitters, we're also experienced at manufacturing and installing slim new double-glazed sashes in new or existing sash boxes. Or, for that matter, any kind of double-glazed timber windows for your renovation project. Our FENSA-approved joinery workshop and experience with wood replacement windows for listed properties and conservation areas keep conservation officers happy too.
LET'S TALK DRAUGHT PROOFING
Will you choose a set of perimeter sash brush pile and draught seals to drought-proof your windows and save energy? Have you considered full restoration and refurbishment? Or new, A-rated, slimline double-glazed sashes? Whatever you need, we'll recommend the most suitable window draught-proofing for your property and budget.
Words and pictures only start to tell our story. To fully understand why people entrust us with renovating and draught-proofing windows, please call for a no-obligation chat, free quotation and referrals to delighted customers.
Call 07595 387211 or contact us today